The 2019 edition of the October Days for Sustainable Development (ODSD) will take place on Thursday, 17 and Friday, 18 October. Every year since 2015 (the year of the adoption of the Sustainable Development Goals – SDGs), the October Days for Sustainable Development (ODSD) have contributed to the global debate on the SDGs by enhancing dialogue among stakeholders.
The 2019 edition of the ODSD will shed light on innovative initiatives that contribute to achieving Sustainable Development Goals (SDG) 11 (Sustainable Cities and Communities) and 12 (Responsible Consumption and Production).
The conference will explore pilot and creative best practices emerging in the food, fashion and tourism sectors as specific areas of implementation, from a supply and demand perspective, with panellists from the private and public sectors, academia, the impact investment community, international organisations, the EIB and NGOs, as well as other experts and key actors.
Date, time & location
17 October 2019 (afternoon) and 18 October 2019 (morning)

EIB Headquarters – 100, boulevard Konrad Adenauer (CA room)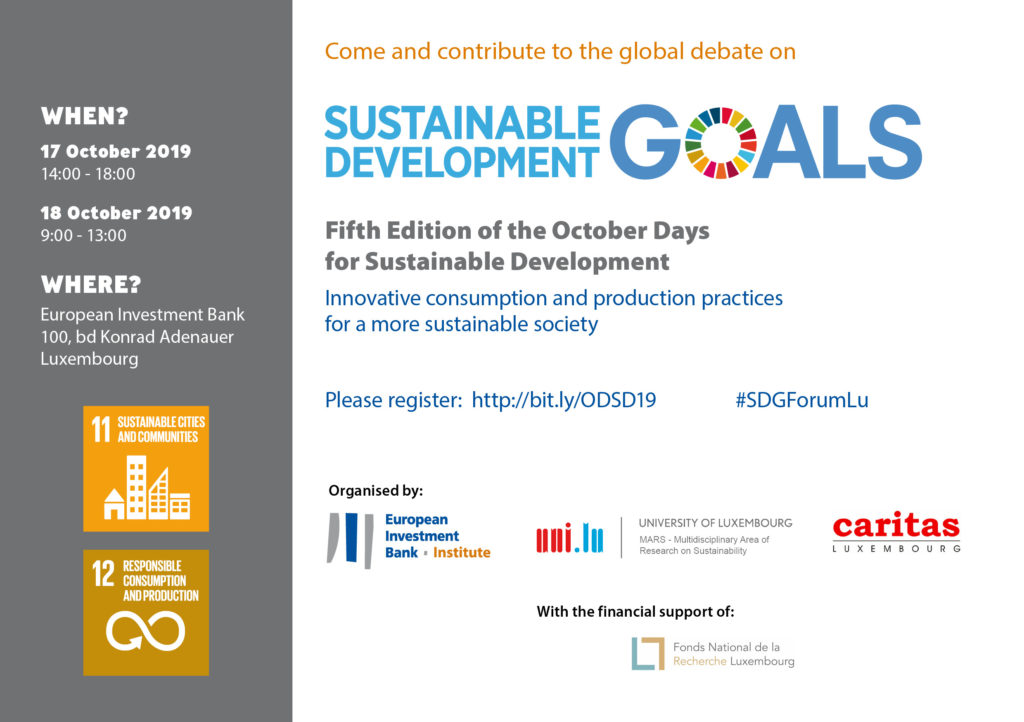 This event is supported by the FNR's RESCOM programme, in connection with the 'Inequality and… ' lecture series, co-organised by FNR PEARL Chairs Profs Conchita D'Ambrosio and Louis Chauvel.