On Thursday, 20 October 2022, the FNR will host the 14th annual FNR Awards Ceremony. As in 2021, 2022 event will take place at the Maison des Arts et des Étudiants in Belval, and will also be shown via live stream. Register by 10 October. 
FNR Awards 2022 | 20 October 2022, 18:30 CET | Maison des Arts et des Étudiants in Esch/Belval. Please note this is a CovidCheck event, please bring your certificate. Rapid tests will also be available on site.

Go to registration page – please note, as of 22 September, the event is already at 50% capacity.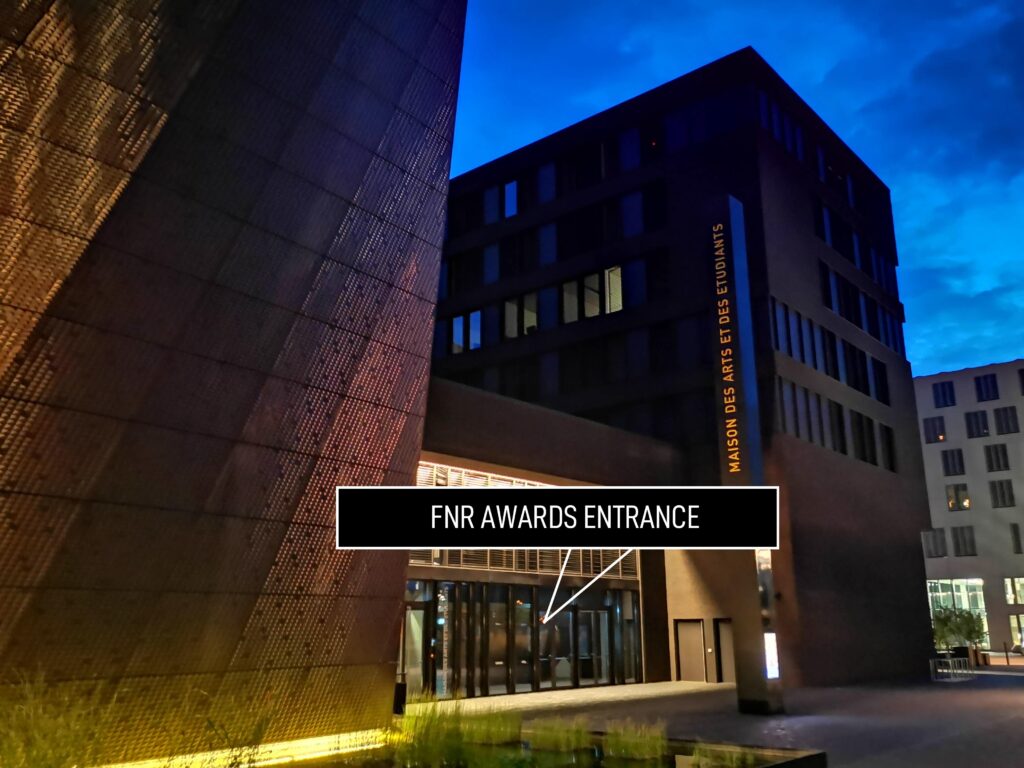 About the FNR Awards
Since 2009, the FNR has held the annual FNR Awards, where researchers and science communicators are recognised for outstanding efforts. Awards are presented in different categories, with each award doted with a 5000 EUR prize. Since 2009, nearly 80 FNR Awards have been awarded to researchers and science communicators in Luxembourg to recognise their contributions.
FNR Awards categories
As of the 2021 FNR Awards, the categories are as follows:
Outstanding PhD Thesis
Outstanding Scientific Achievement
Outstanding Promotion of Science to the Public
Outstanding Mentor
The 2022 FNR Awards Ceremony hosts are Lisa Burke, and Michèle Weber (FNR).
Why change the categories?
Over 70 FNR Awards have been presented since 2009. Starting with the FNR Awards 2021, the FNR aims to give further credit to the people behind research: the drivers of innovation and societal impact. Therefore, the FNR introduces two new categories, the FNR Award for Outstanding Mentor and the FNR Award for Scientific Achievement.
New: Outstanding Mentor
Mentorship is essential for driving research and helping the next generation of scientists to become independent researchers. Good mentorship goes beyond professional development, shaping individual scientists, impacting scientific careers, as well as passing along positive research values such as research integrity, scientific credibility and fostering a diverse and inclusive research environment. Through the FNR Award for Outstanding Mentor, the FNR wants to recognize outstanding mentorship and reward this important but sometimes unappreciated element of research.
New: Outstanding Scientific Achievement
At the same time, the FNR wants to attribute more value to research projects that shape their scientific field instead of zooming in on a single output such as a scientific publication or a marketable product. The FNR again aims to put the team of researchers at the centre, passionate people that want to make a change through their science and work to generate impact for both science and society.
Therefore, the FNR replaced the two categories Outstanding Scientific Publication and Outstanding Research-Driven Innovation with the new category Outstanding Scientific Achievement. This new award will furthermore help the public to change their perception of a successful researcher from someone who must publish in prestigious scientific journals towards a team that aims to change science and society for the better.
Discover previous editions of the FNR Awards