Following an open call for proposals among doctoral candidates, the FNR has selected eight Luxembourg doctoral candidates out of twenty applications to participate in the 2018 edition of the EuroScience Open Forum (ESOF), taking place from 9 to 14 July in Toulouse, France.
During a get-together, six of the eight candidates met at the FNR: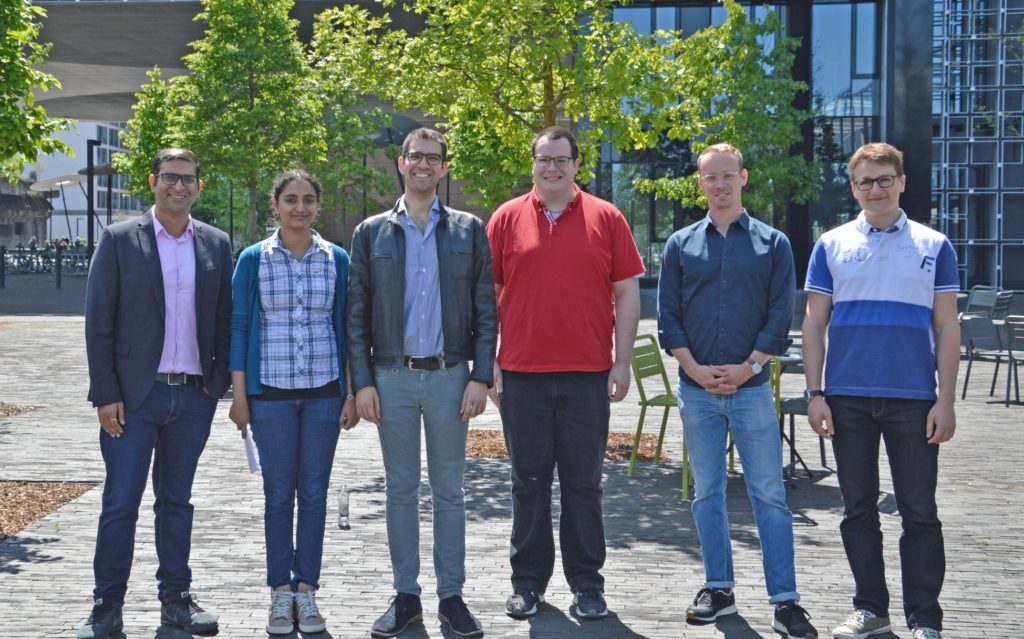 From left to right:
Chetan Arora, SES Techcom (Computer Sciences) – Chetan has also been featured in the FNR campaign Spotlight on Young Researchers
Divya Balakrishnan, LIST (Nanotechnology)
Antonio Di Maio, University of Luxembourg (UL-SnT), (Computer Sciences)
Patrick Glauner, UL – SnT (Computer Sciences)
Jan-Tobias Doerr, UL (Geography)
Jeremy Charlier, UL – SnT (Computer Sciences)
Two of the travel grant awardees were not present at the FNR Get-Together: Camila Honorato Rios, UL (Physics/Material sciences) and Henry Kurniawan, Luxembourg Institute of Health (Immunology).
About European Science Open Forum (ESOF)
ESOF (EuroScience Open Forum) is the largest interdisciplinary science meeting in Europe. It is dedicated to scientific research and innovation and offers a unique framework for interaction and debate for scientists, innovators, policy makers, business people and the general public.
Created in 2004 by EuroScience, this biennial European forum brings together over 4 000 researchers, educators, business actors, policy makers and journalists from all over the world to discuss breakthroughs in science. More than 40% of the participants are students and young researchers.
More information can be found on the ESOF website.