PROGRAMME SUMMARY
The European Joint Programme on Rare Diseases (EJP RD) has successfully implemented two Joint Transnational Calls since 2019 to further help in coordinating the research efforts of European, Associated and non-European countries in the field of rare diseases and implement the objectives of the International Rare Disease Research Consortium (IRDiRC). These actions are following the ten Joint Transnational Calls for rare diseases research projects launched previously by the ERA-Net E-Rare since 2006.
2021 topic & aim
'Social sciences and Humanities Research to improve health care implementation and everyday life of people living with a rare disease'
The aim of the call is to enable scientists in different countries to build an effective collaboration on a common interdisciplinary research project based on complementarities and sharing of expertise, with a clear future benefit for patients.
Research proposals should cover at least one of the following areas
Health & social care services research to improve patient and familial/household health outcomes
Economic Impact of Rare diseases
Psychological and Social Impact of Rare diseases
Studies addressing the impact/burden of the delay in diagnosis and of the lack of therapeutic intervention.
e-Health in rare diseases: Use of innovative technology systems for care practices in health and social services
Development and enhancement of health outcomes research methods in rare diseases
Effects of pandemic crisis and the global outbreak alert and response on the rare disease field, and the emergence of innovative care pathways in this regard.
Information webinar 2 February
An information webinar will take place on 2 February from 15:00 – 16:30 CET.
Registration is mandatory and must be done by 29 January 2021.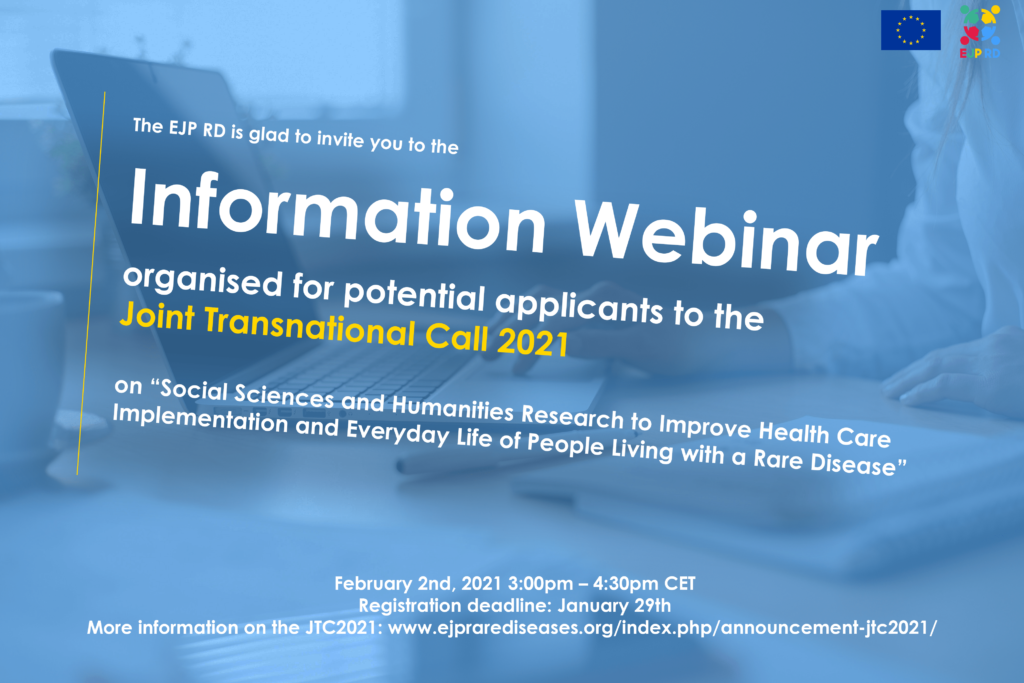 FUNDING SPECIFICS
The FNR supports Luxembourg partners in this Call with a maximum of 300,000 EUR.
APPLICATION INFORMATION
Matchmaking tool
If you are interested in finding consortium partners to submit a proposal, please consult the matchmaking tool for the 2021 EJP-RD call
Submission
Both pre- and full proposals must be written in English and must be submitted to the Joint Call Secretariat (JCS) by the coordinator through the electronic submission system exclusively. Specific information to follow.
In addition, Luxembourg partners must submit both pre and full proposals, along with the FNR INTER Call documents to the FNR no later than 7 working days after the EJP-RD deadline. Applications to the FNR must be submitted via the FNR's Online Grant Management System.
Call timeline
There will be a two-stage submission procedure for joint applications: pre-proposals and full proposals. Submission opens in early December 2020.
Pre-proposal submission deadline: 16 February 2020.
Invitation to full proposal: end April 2021.
Full proposal submission deadline: 15 June 2021.
Deadline for rebuttals: 30 July 2021.
Notification of funding decision: November 2021.