Innovative artificial intelligence spin-off company LuxAI took home the first prize for their socially assistive robot at yesterday's Mind & Market Forum in Maison du Savoir in Belval.
LuxAI is a spin-off from the SnT at the University of Luxembourg, which is specialized in socially assistive robotics. The team, led by Dr Pouyan Ziafati and Dr Aida Nazarikhorram, developed the prototype of the robot with the assistance of an FNR PoC grant.
LuxAI uses the latest advancements in Artificial Intelligence and robot-therapy in building social robots to assist people. The mission is to make socially assistive robots economical and user-friendly in order to enable all teachers, therapists and care givers to use advanced robots in their everyday work of improving the health and education of people.
17 awards presented at Mind & Market
The Mind & Market in Luxembourg Forum is an event where creators of innovative projects have the opportunity to pitch their business model in front of an international, business audience comprising, among others, specialists and experts.
A total of 26 project holders presented their start-ups to five juries in the domains engineering, sustainable development, platform interaction, smart data and e-health.
Each project had 5 minutes to present and received 5 minutes of jury feedback, followed by 5 minutes of Q&A. Only 1 of the start-ups is already an established company, while 13 were launched less than 5 years ago and 5 were still in the making.
On top of the first prize awarded to LuxAI, 17 prizes were presented at the Forum. The which received the most prizes were:
Home Farmers (4 prizes): The Paris-based small enterprise provides individuals with modular vegetable home gardens and related installation, plantation, cultivation and maintenance services throughout the plants' lifecycle.
Cabin3D (3 prizes): Cabin3D is a technology that takes a 3D image of a person in less than one second.
Seerus (2 prizes): Seerus is an analytics software that gathers insights into client data
The Mind & Market Forum was organised by Deloitte, the University of Luxembourg, the FNR, Luxinnovation and Mind & Market Belgium.
More information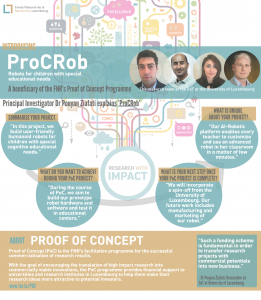 Flashback video of 4 winning project-holders from Mind & Market 2015 who shared their experience of the Mind & Market Forum in Luxembourg.