The FNR is offering an online workshop on the 'Narrative-style CV' implemented by the FNR in 2021. The workshop [registration required] takes place on Thursday, 9 February 2023, from 10:30 – 12:00 CET.
This workshop will be a updated version of the one given in early 2022, with slight adaptations to the information given and in the interactive session. The target audience is anyone who would like to have a bit more guidance (from the FNR and from peers) in how to fill out a narrative-style CV.
Please complete in advance the Narrative CV survey – this also includes a field for any questions you would like to submit ahead of the workshop.
The workshop covers three elements:
A history of the Narrative CV, with context and current international adoption
An interactive session on the different sections of the FNR template, and collaborative brainstorming of examples for outputs/achievements that fit in the different sections
A session on feedback – both covering survey responses (link above) and our larger feedback survey from last year's experience with the narrative CV.
---
A Narrative CV workshop was held in March 2022. See below for the key information.
2021/22 workshop survey key results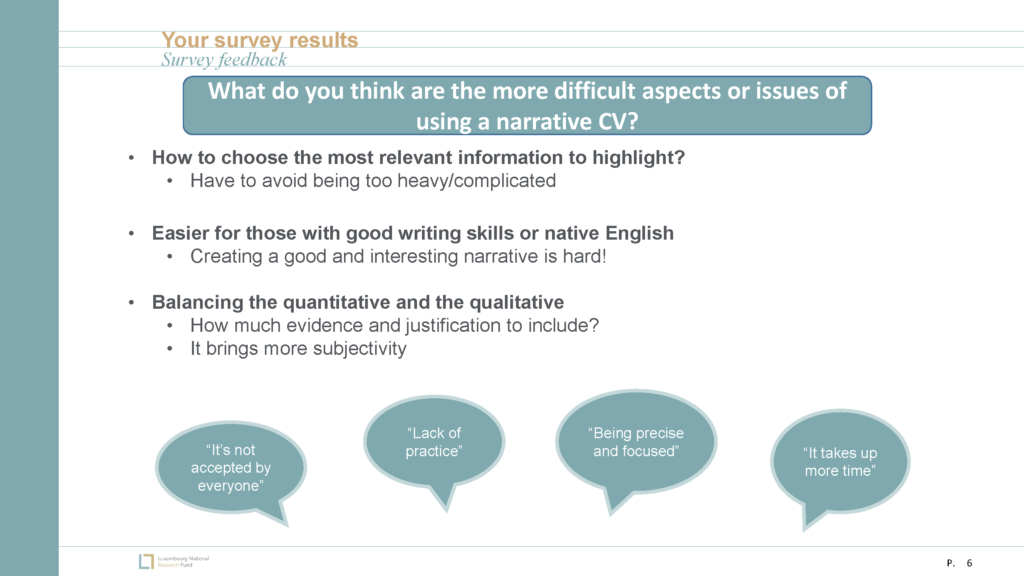 Mural