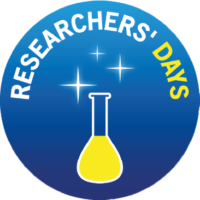 Dear workshop leaders,
Following this new edition of Researchers' Days, the FNR would like to thank you once again for your participation and commitment! In order to better evaluate the event and make possible improvements to the next editions, we would be happy if you could take a few minutes to fill out our satisfaction survey below have by

Friday, 15 February 2019

. Your opinion is very important to us, so we would very much appreciate it if you could share your impressions and any suggestions you may have.
Please give your overall assessment for the following points and, if possible, comment on your assessment. Evaluation: 1 = very good; 2 = good; 3 = medium; 4 = bad; 5 = very bad).
Chers responsables d'ateliers,
Suite à cette nouvelle édition des Researchers' Days, le FNR tient à vous remercier une fois de plus pour votre participation et votre engagement ! Afin d'évaluer au mieux la manifestation et d'apporter d'éventuelles améliorations à la prochaine édition, nous nous permettons de vous adresser ci-dessous une enquête de satisfaction. Votre avis étant très important pour nous, nous vous saurions donc gré de bien vouloir prendre quelques minutes de votre temps pour nous faire part de vos impressions et de vos éventuelles suggestions et ce

jusqu'au vendredi 15 février 2019

.
Veuillez donner votre appréciation globale pour les points suivants et si possible veuillez commenter votre appréciation. Évaluation : 1 = très bien ; 2 = bien ; 3 = moyen, 4 = mauvais ; 5 = très mauvais).