Please fill out the form below to register to attend the 2019 FNR Awards Ceremony, taking place at 18:00 CET on Friday, 25 October 2019 in the halle des poches à fonte in Esch/Belval. Deadline to register is Monday, 21 October 2019.
Please note, places are limited and seating will be allocated on a first-come, first-served basis.
Venue location
Halle des poches à fonte – Esch/Belval
Avenue du Rock'n'Roll / Avenue des Hauts-Fourneaux
L-4361 Esch-sur-Alzette
How to get there
Public transport: Bus
Three TICE lines run daily to and from the Rockhal (line 3, line 4 and line 15).
For more information on schedules and prices, please visit the TICE website.
---
Public transport: Train 
The "Belval/University" stop is ideally located as it is just behind the Rockhal: The Halle des poches à fonte is in a short walking distance from there.
Please visit www.cfl.lu or www.mobiliteit.lu
---
By car
You can also come to Belval by car and use one of the parkings nearby (please note the A4 motorway direction Esch is very busy during rush hour so it is highly recommended to allow extra time):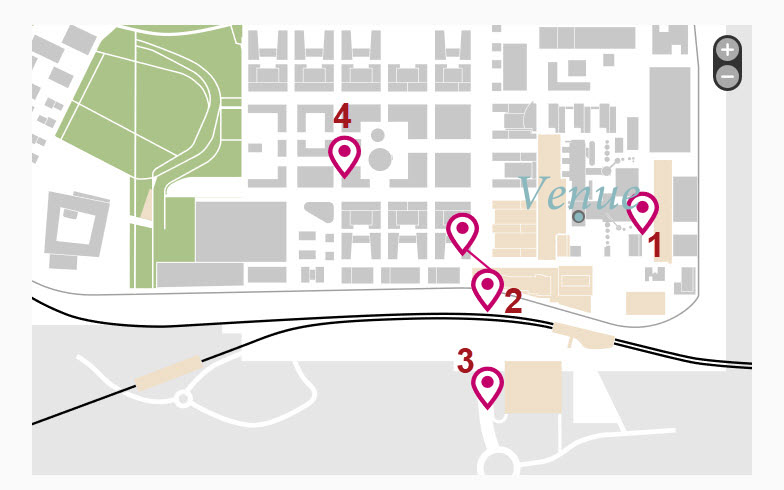 1/ Parking Bâtiment administratif – Fonds Belval
Capacity: 60 parking spaces
1, avenue du Rock'n'Roll
L- 4361 Esch-sur-Alzette
---
2/ Belval Plaza shopping centre 1 car park
Capacity: 850 parking spaces
7+14 avenue du Rock & Roll
L-4361 Esch-sur-Alzette
Belval Plaza offers 1 hour of free parking and 2 hours offered by the merchants (validation of your ticket in the gallery's shops) during the mall's opening hours from 7:00 to 21:00.
No purchase: 1 hour of free parking, then second hour is 1€, third hour is 3€.
---
3/ P&R Belval-Université
It is located on the CR168 (Belval road) between Esch/Alzette and Belvaux.
266, route de Belval
L- 4024 Belval-Université
GPS coordinates N 49° 29′ 59″  E 5° 56′ 44″
Covered car park – Open – 24h Capacity: 1.615 parking spaces – Price per hour: 0.60€
---
4/ Parking Square Mile
Located in the centre of the Belval site and opposite RBC, the Square-mile car park is open 24 hours a day.
Capacity: 976 places, not covered.
Porte de France
L-4360 Esch-sur-Alzette
---
The FNR takes photographic and/or video material at this event. By participating in it, you agree that we will include possible images of yourself for material used for in various promotional activities and related endeavours in relation to your participation. This material may also appear on FNR's digital communication media (e.g. FNR website, FNR social media) and/or print media (e.g. annual report).
About the FNR Awards Ceremony
The FNR annually presents awards in the categories 'Outstanding Scientific Publication'; 'Outstanding PhD Thesis'; 'Outstanding Promotion of Science to the Public', with 'Outstanding Research-Driven Innovation' added for the first time in 2017. These are presented at the annual FNR Awards Ceremony, attended by the Minister for Higher Education and Research. With the FNR Awards, the FNR aims to encourage communication between researchers, and to promote science-related activities aimed at the general public and the young. The FNR Awards highlight such work and reward both the awardees and their institutions.
Discover previous FNR Award winners
FNR Newsletter
FNR Info is the FNR's weekly e-newsletter, which includes new Calls, announcements, selected highlights, upcoming events and deadlines, and more.
---
Science.lu
Science.lu is an FNR-run website which presents science and research in an exciting and surprising way, in German, French and Luxembourgish, with select articles in English.