THE AFR INDIVIDUAL POSTDOC SCHEME
The AFR Individual Postdoc Scheme ran from 2008 to 2016.
In 2015, the scheme underwent a reform, and no new calls were or will be issued under the scheme. However, AFR postdoc grants are still awarded through Industrial Fellowships in the framework of public-private partnerships (partnerships between research and industry).
OTHER OPPORTUNITIES FOR POSTDOC POSITIONS
The FNR funds numerous postdoc positions in the framework of its multiannual programmes CORE, CORE junior, INTER, ATTRACT, and PEARL. These positions are announced via the Luxembourg EURAXESS job portal.
AFR POSTDOC FUNDED PROJECTS
Between 2008 and 2015, the AFR Postdoc scheme has funded a total of 346 postdocs, of which 36% of the grants were awarded to female researchers. View a breakdown per year and per domain in our graphics below.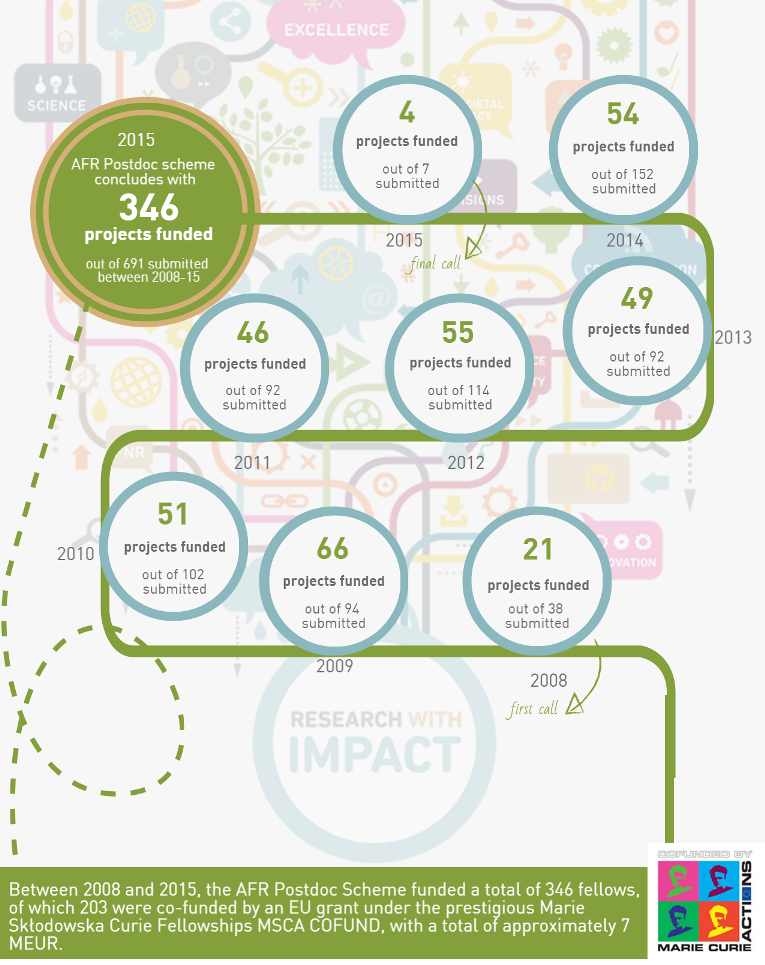 REPORTING DOCUMENTS FOR CURRENT AFR POSTDOC FELLOWS
CAREER TRACKING OF DOCTORATE HOLDERS
The AFR postdoc scheme was included in a pilot study on career tracking, organised in 2015 by the European Science Foundation (ESF):