PROGRAMME SUMMARY
Through RESCOM scientific events, the FNR provides funding to support communication in view of disseminating and exchanging scientific outcomes.
Funding is awarded for:
The organisation of international scientific conferences held in Luxembourg 

that provide an opportunity for a broad range of researchers and other research-related staff and stakeholders to meet for discussion on the most relevant and most recent developments in their fields of research. International Scientific Conferences should bring together more than 100 researchers and research-related staff from more than five countries and should be open world-wide.
The organization of lectures series here in Luxembourg that 

provide overviews of the current state of research and innovation, stimulate cross- and/or interdisciplinary discussion of pioneering ideas, and explore perspectives on emerging disciplines. 

Lectures Series have a minimum 5 and maximum 15 lectures per 12 months period and creates impact across the research and societal landscape.
Funding can be awarded to public institutions performing research in Luxembourg, as well as non-profit organisations who have obtained authorization from the ministry of Higher Research. The FNR expects an inclusive attitude towards gender and ethnic diversity, while also considering experts from different career stages.
APPLICATION INFORMATION
All applications must be submitted via the FNR Online Grant Management System.
Lecture Series & International Scientific Conferences
For proposals submitted by the 15 March, the scientific event can take place no earlier than 1 July.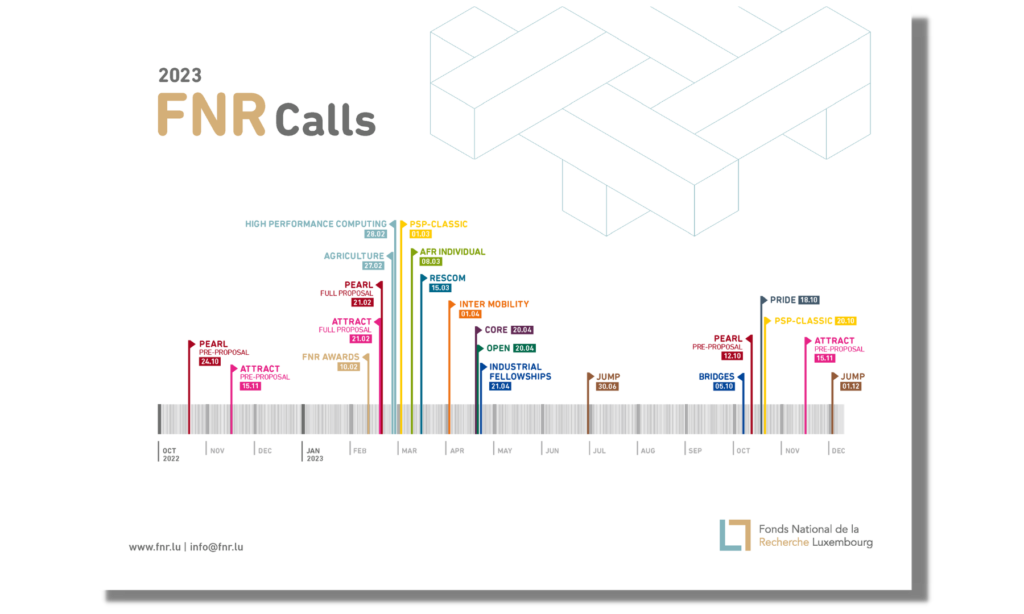 Download the 2023 calls overview as an A5 flyer with short descriptions or A3 poster with deadlines only.