What is SciCom Luxembourg?
Meet and exchange with fellow science communicators!
Formerly known as Science Communicator Networking Event, SciCom Luxembourg is an annual networking event for science communicators from Luxembourg and surroundings with the goal to keep in touch, get to know each other and be inspired.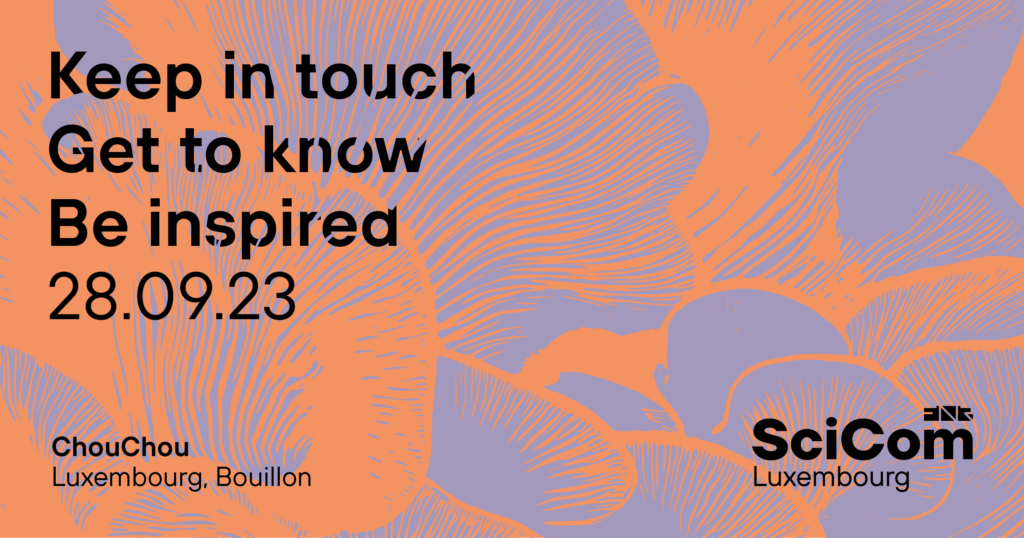 2023 SciCom: Keep in touch, get to know, be inspired!
The next edition will take place on 28 September 2023.
Where?
What?
12H00 | Bits & Bites Networking – Let's eat and meet
13H00 | Official Start – Let's set the stage
13H15 | Keynote Talk – Let's get inspired by Andy Miah
Title: Tactical Science Communication in an Age of Artificial Intelligence
14H15 | Work & Learn – Let's figure this out together with Andy Miah
Title: Too Busy to Create? How to fit content creation intro your workflow and why that's worthwhile
15H15 | Break – Let's take a breather
15H45 | Wrap-up of the Workshop – Let's hear each other out
16H15 | Group Activity – Let's solve fun challenges
17H00 | Feedback & Conclusion – Let's wrap this up
17H30 | Networking Cocktail – Let's celebrate and talk
21H00 | Official End – Let's say a temporary goodbye
More information
Do you want to be kept in the loop for any further information about the event? Please email melanie.reuter@fnr.lu to get on the mailing list.
* Please note that registration is now closed *
Related contacts