"Connections have been made and this is only the beginning", said Mars Di Bartolomeo, President of the Chamber of Deputies, when he opened the closing event of the first edition of the 'Pairing Scheme – Politics meets Research'. The closing event was attended by the FNR's Secretary General Marc Schiltz, along with many of the MPs and researchers who took part in the scheme.
The Pairing Scheme saw 17 MPs – nearly 1/3 of Luxembourg's MPs – paired with 17 researchers. In order to enable the worlds of research and politics to get to know each other better, each MP and researcher paired, visited each other's respective work environments.
The Scheme has received very positive feedback from the participants – and the connections made between the pairs will not end with the conclusion of the first edition of the scheme. Several of the pairs state they will continue their exchange in some form.
What next?
Speaking at the closing event, the FNR's Marc Schiltz said: "In a time where we hear a lot about 'alternative facts', it is vital to connect the two worlds of politics and research". Indeed, the MPs – who were highly satisfied with the exchanges had and connections made with the researchers – have proposed to more frequently utilise the knowledge and experience of the researchers to enrich political debates in the Chamber of Deputies. It was also proposed to involve researchers and their expertise in parliamentary commissions leading up to new laws.
It is hoped a second edition of the Pairing Scheme can run once the general elections in 2018 have taken place.
The Pairing Scheme is an initiative of the Luxembourg National Research Fund (FNR), in collaboration with the Chamber of Deputies.
More about the Pairing Scheme & participant feedback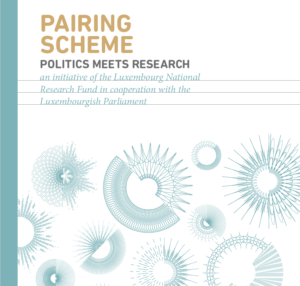 To find out more about the Pairing Scheme, view the video below or view the brochure Pairing Scheme, which includes quotes and feedback from both researchers and MPs who took part in the scheme.
You can also read about the Pairing Scheme closing event on the website of the Chamber of Deputies
Closing event photos
Below you can view a selection of photos from the closing event held on Monday, 13 March 2017 at the Chamber of Deputies (copyright Chamber of Deputies)