The FNR has approved a total of 18.3 MEUR for 32 research projects of the 2016 CORE call. The projects retained for funding are located at the University of Luxembourg, LIST, LIH and LISER.
CORE is the central funding programme of the FNR, with a prime objective to strengthen the scientific quality of Luxembourg's public research in strategic priority areas.
In order to identify the most promising and most excellent projects, the FNR submits project proposals to an assessment by independent international experts. Among the 108 eligible project proposals that were submitted, 32 have been selected for funding by our international expert committees. 13 of the 32 projects are CORE Junior. 76 proposals were rejected. Of the Principal Investigators (PIs) on the funded projects, 8 are female and 24 are male.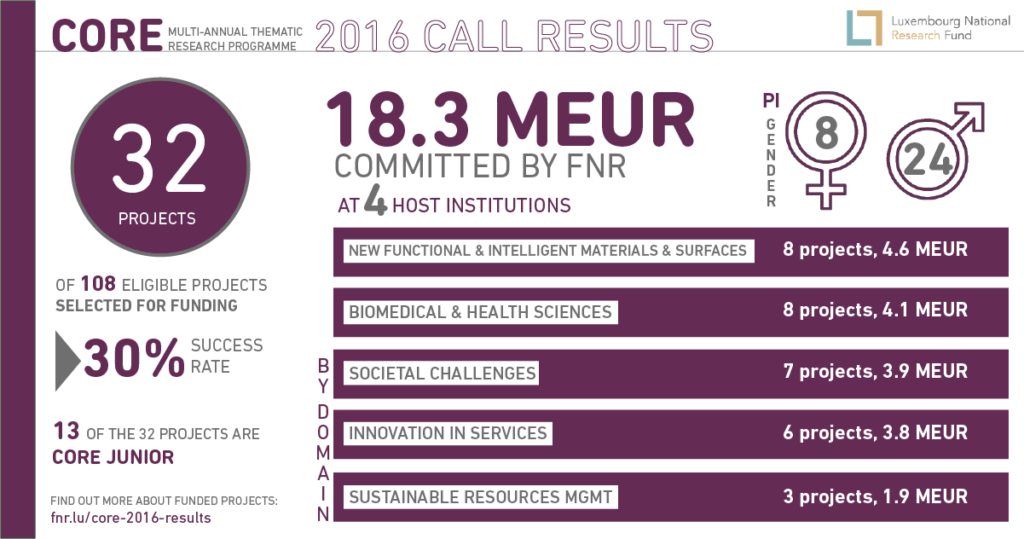 Overview of funded projects
Below is an overview of the projects selected for funding, including a project abstract.
Domain Biomedical & Health Sciences
8 projects, 4.1 MEUR committed
Domain Innovation in Services (IS)
6 projects, 3.8 MEUR committed
Domain New Functional & Intelligent Materials & Surfaces (MS)
8 projects, 4.6 MEUR committed
Domain Societal Challenges (SC)
7 projects, 3.9 MEUR
Domain Sustainable Resource Management (SR)
3 projects, 1.9 MEUR committed
---