The FNR's key values are excellence and quality in research. The FNR systematically submits funding proposals to an evaluation by independent scientific experts and applies the highest standards of scientific merit, transparency, impartiality, confidentiality and integrity.
As a testament to the importance the FNR places on transparency, a 2015 external evaluation of the FNR's selection process for the CORE programme deemed the process to be transparent, fair, unbiased and impartial. The principles of this selection procedure are applied to all FNR research funding schemes.
WHEN WE ACCEPT APPLICATIONS
The FNR has more than 10 different funding instruments, covering a broad spectrum of funding opportunities. When these programmes are opened for proposals, we launch a 'Call for Proposals'. These calls may cover a certain research topic, or may address other issues of strategic importance for Luxembourg (e.g. attract young promising researchers to Luxembourg).
The programmes AFR, CORE, OPEN, PEARL, ATTRACT, KITS, JUMP and PRIDE open for proposals on an annual basis. INTER Mobility, PSP-Classic, BRIDGES, Industrial Fellowships, and RESCOM: Scientific Events open twice per year. The programme INTER has ongoing deadlines, as it serves as an umbrella for research collaborations between scientists in Luxembourg and other researchers across the world.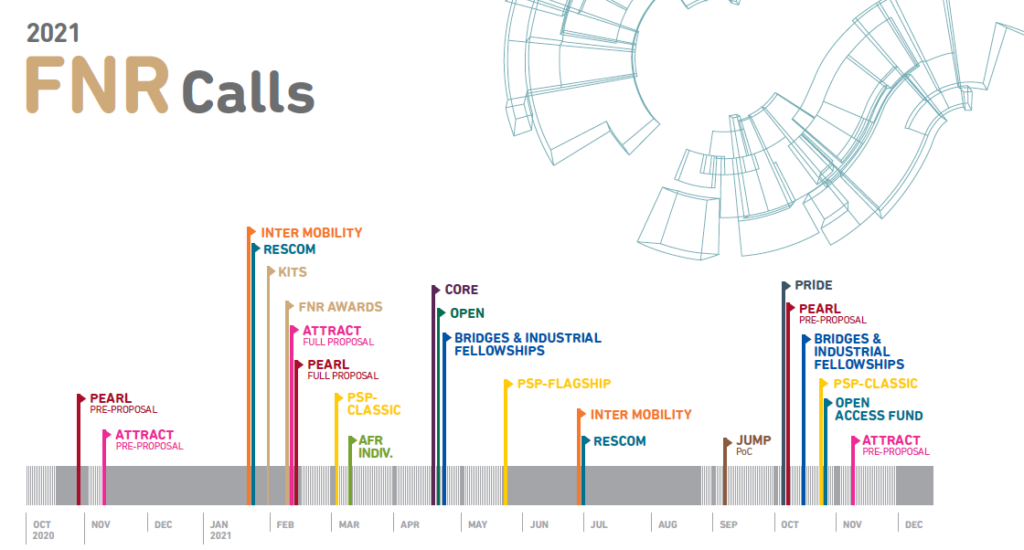 WHO CAN APPLY
The FNR has funding instruments to cover all career stages, from PhD candidates to researchers who are leaders in their field.
We have programmes for:
Luxembourgish researchers abroad (AFR, Industrial Fellowships);
Bi- and multilateral programmes to support collaboration between researchers in Luxembourg and abroad (INTER);
Researchers working in Luxembourg to go abroad or researchers from abroad to come to Luxembourg (INTER Mobility);
Researchers apply together with their research institution, the specifics vary between funding instruments. The programme descriptions and application guidelines for each funding instruments specify whether the scientist or institution must apply, or whether this must be done together with their research institution.
TYPES OF FUNDING
We have three overarching types of funding:
Person funding (AFR, ATTRACT, Industrial Fellowships, PEARL, KITS)
Project funding (BRIDGES, CORE, INTER, OPEN, INTER Mobility, IPBG, JUMP (Pathfinder + Proof Of Concept), PSP-CLASSIC, PSP-FLAGSHIP, PRIDE, RESCOM)
Programme funding (NCER)
For most funding schemes, the grants will be transferred directly to the host institution, which is then responsible for administering the grant.
SELECTION PROCESS
The FNR values a transparent selection process. All applicants submitting proposals (successful or not) will receive the results of the peer review and panel evaluation of their proposals.
1. Peer Review
Once a call has closed the FNR checks submitted proposals for general eligibility. Eligible projects are put through a vigorous peer review process, and each proposal is on average reviewed by 2 – 3 international experts in the relevant field. Peer reviewers must comply with the FNR's peer review guidelines and sign a non-disclosure agreement before assessing the proposals / applications.
2. Panel and final decision
Following the written evaluation of the proposals, the FNR organises panels consisting of international experts:
The task of the panel is to discuss and compare the proposals of each domain / call. They are also asked to assess the quality of the written reviews.
Each panel member is assigned one or more proposals and asked to prepare a detailed synthesis to present to the rest of the panel members.
The panel makes a funding recommendation to the FNR on each proposal.
The Board of the FNR makes the final decision on which projects will be funded.
FNR evaluation & selection process explained
CONDITIONS FOR RESEARCHERS SERVING AS PRINCIPAL INVESTIGATORS (PIs)
Researchers wanting to be Principal Investigators (PI) must meet certain criteria to be eligible as a PI. These criteria also apply to supervisors of FNR PhD grants.
DORA
The FNR is a signatory of the DORA declaration, which consists of a set of recommendations to improve the assessment of scientific output. As a signatory of DORA, the FNR fully supports the declaration's practices in research assessment, and has updated its own peer review guidelines accordingly.
Narrative CV
This new CV is mandatory for main applicants, PIs, and Co-PIs applying for FNR funding programmes, and is required for all funding programmes where a CV is requested.
The goal of the FNR's new narrative CV is:
To align with the principles of DORA[1] that research (and researchers) should be assessed on its own merits, and that the value and impact of all research outputs be considered for research assessment.
To allow an applicant to be more fairly evaluated on their scientific vision, appropriate experience, and contributions to science and society, instead of solely metrics, journal names, and other information that does not fully represent the potential of a researcher. This levels the playing field for applicants of different career levels and attempts to minimize reviewer and panel bias during evaluation to the largest possible extent.
To broaden the types of achievements that can be seen as relevant for the advancement of your research, including practices related responsible conduct of research (ethics and integrity), Open Science, mentoring, contribution to science and society and other critical aspects of the overall research system, providing context for evaluation criteria as well as supporting a broader and more nuanced evaluation
[1] www.sfdora.org
OPEN ACCESS
The FNR attaches great importance to the impact of research outputs on science, industry, policy making and society in general. Open Access improves the pace, efficiency and efficacy of research, and heightens the authors' visibility, and thus the potential impact of their work. It removes structural and geographical barriers that hinder the free circulation of knowledge and therefore contributes to increased collaboration, ultimately strengthening scientific excellence and capacity building. We consider that publications which report the outcomes of publicly funded research constitute a common good that should not be locked behind paywalls.
FNR Policy on Open Access
In the framework of the National Policy on Open Access adopted in 2015, the FNR has made it a requirement that publications resulting from FNR-funded research are made Open Access (see previous FNR Policy on Open Access). In addition, the FNR has set up the Open Access Fund to provide funding for Open Access publication fees.
By promoting full and immediate Open Access, FNR is fulfilling the ambitions of the Luxembourg government and of the 2016 Conclusions of the Council of the European Union.
cOAlition S & implementing Plan S
Changes to the current Open Access Policy In September 2018, FNR has joined cOAlition S, a global initiative of more than 25 research funders that have agreed to jointly implement Plan S in a coordinated way, together with the European Commission. Plan S is a set of 10 high-level principles to promote full and immediate Open Access to scholar publications.
These principles will also be implemented by the European Commission in the forthcoming framework programme for research and innovation. Thus, the new FNR Open Access policy is fully aligned with Horizon Europe.