Anna Monzel, AFR PhD candidate at the Luxembourg Centre for Systems Biomedicine (LCSB) of the University of Luxembourg has received a 'Young Researcher Prize' from UK company Lush. The researcher, funded by the FNR's AFR scheme, was awarded the prize for the development of a three-dimensional cell culture model of the human midbrain.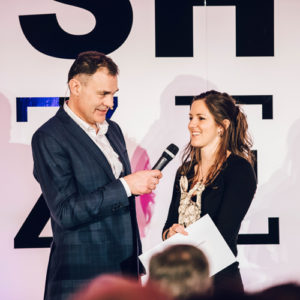 The Lush Prize is awarded in various categories, but in general the prize is awarded for efforts towards eliminating animal testing from the future of researchers and industry, and it is endowed with a 10,000 GBP prize. This is the second year in a row that the awardees include a researcher from the University's LCSB: In 2016, Pranjul Shah also won a prize in the Young Researcher category.
Future aims to use model to study Parkinson's disease
About her research, Anna said:
"The human brain is an immensely complex structure and understanding its developmental processes and neurological disorders remains a challenge.
"Animal models have been traditionally used to study developmental neurogenesis and disease pathology in the brain. However, they do not recapitulate many key features of the human brain so there is an obvious need for human in vitro models that replace animal testing and can help to understand disease mechanisms.
"We have recently developed a method to turn human pluripotent stem cells derived from skin samples into 3D brain-like structures that behave very similar to cells in the human midbrain. These so-called organoids represent an artificial tissue-like structure with typical midbrain-specific cell types that can even transmit and process signals.
"In the future we aim at using this model to study the causes of Parkinson's disease, a severe neurodegenerative disorder affecting more than 5 million people worldwide. With this model we can elucidate the effects of environmental impacts such as pollutants on the onset of the disease. We hope that our organoid systems will lead to the identification of new compounds that could possibly relieve the symptoms of Parkinson's or to even cure the disease from its very cause."
---
More information
The Developmental and Cellular Biology Groupand its collaboration partners published their results in the journal Stem Cell Reports: "Derivation of human midbrain-specific organoids from neuroepithelial stem cells"
Anna S. Monzel, Lisa M Smits, Kathrin Hemmer, Siham Hachi, Edinson Lucumi Moreno, Thea van Welled, Javier Jarazo, Jonas Walter, Inga Brüggemann, Ibrahim Boussaad, Emanuel Berger, Ronan M.T. Fleming, Silvia Bolognan, Jens C. Schwamborn.
(DOI: 10.1016/j.stemcr.2017.03.010)
The project was funded by the FNR in the scope of the programmes CORE and AFR, by the University of Luxembourg, by JPND Research, and by the European Union in the scope of the H2020 project SysMedPD.