The number of people affected by dementia is steeply rising and new, innovative ways of assistive care are needed. Stëftung Hëllef Doheem (SHD) – the largest network of assistance and home care in Luxembourg – is involved in an international project that uses an innovative technology approach to assist people with cognitive problems with daily tasks, helping them live independently for longer.
Dementia has become a major health problem with an equally important economic impact on our society: worldwide, approximately 47 million people have dementia. Not only is this number expected to triple by 2050, but the global cost associated with the disease is projected to exceed one trillion US Dollars by 2030. In Luxembourg, an estimated 10.000 – 11.000 people are living with dementia[1].
Using innovative technology is a significant solution to approach the problem of dementia care: Avatars or Personal Virtual Assistant (PVA) are promising examples of technological solutions with a large potential in this field. PVAs are screen-based entities designed to stimulate human face-to-face conversation skills, and thus allow for natural interaction between humans and computer.
"The extent to which this kind of innovation may be able to support people affected by dementia and their caregivers along the progressive nature of this terrible illness represents a great challenge for the entire scientific community. The changing needs of those directly concerned by the disease and those who provide care for them, force the necessity of appropriate and effective technologies at the different stages of dementia," explains Viviane von Döllen, Research Officer at Stëftung Hëllef Doheem (SHD).
Anne – a virtual personal assistant
Queue keywords 'innovative technology', SHD is involved in the international research project 'Living Well with Anne', which aims to tackle the issue of dementia care by helping people affected by it be able to live independently at home for longer, assisted by innovative technology.
"The system – called Anne – was designed to support older adults in their daily life with a reminder function (important appointments, medication), a communication function (secure video calls to select family and friends in Luxembourg and abroad), and a gaming function (puzzles and other serious games that stimulate memory)," von Döllen explains.
"Anne" is based on a modular software solution that combines, for example, language recognition and generation, 3D rendering and an adaptive decision control mechanism.
The virtual personal assistant system Anne was developed in a previous project, in which SHD also participated as an unfunded partner. The goals of the current 'Living well with Anne' project are to research if – and to what extend – people with cognitive problems, e.g. dementia, can use the tool and to adapt it accordingly.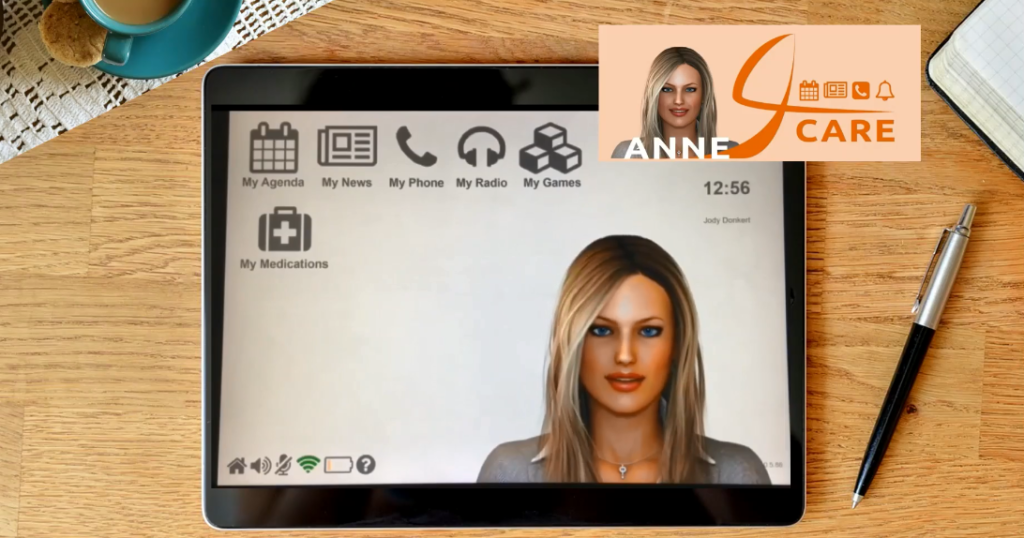 6 partners in 4 countries
The international consortium working on the project consists of partners at SME Virtask (NL); Windesheim University of Applied Science (CH); Lucerne University of Applied Science (CH); Innocampus AG (CH); and INRCA (IT). The SHD is involved in the capacity of being an end-user partner, meaning SHD's expertise relating to older adults and their health, social and emotional issues informs the research and development of the 'Anne' tool.
"In practical terms, this means active participation in conference calls and face-to-face meetings with all the various partners; contributing to all the deliverables and evaluation activities; presenting and defending the project at the CNER to obtain ethical approval to run field trials in Luxembourg; recruit, inform, train and support potential field trial participants, as well as setting up and running field trials," von Döllen explains.

"SHD has many clients who suffer from some form of dementia or cognitive problems due to other causes (e.g. AVCs – strokes – or diseases affecting the brain or head injuries). Many of them still live relatively autonomously in their own homes and are cared for by SHD and, if available, their informal caregiver. Most of them also attend a SHD Day Care Centre (DCC)," von Döllen explains.
The current project runs until mid-2020, with the SHD field trials due to start in September 2019. In terms of how SHD will implement the results of the project, von Döllen explains it is likely to be one of two ways:
"The first being to act as promoter/facilitator of the tool where SHD recommends its usage and provides general usage and frontline technical, such as Helpdesk support. The second approach would be to provide DCC clients with the Living well with Anne tablets, so that Anne can provide them with additional support on the days that they are not attending the Day Care Centre."
"Being able to contribute to the development of ICT tools that could meet the real needs of the older adults and their informal/formal caregivers is very enriching"
SHD's involvement in the current Anne project is financially supported by the FNR via the FNR INTER programme. Through the INTER programme, the FNR supports collaboration between partners in Luxembourg and abroad. Under the umbrella of INTER, the FNR runs various bilateral calls with international partners, and also participates in a range of multilateral calls, such as those issued by the AAL programme. The AAL – Active and Assisted Living – programme supports projects in industry partnerships in the field of information and communication technology (ICT) for active and healthy ageing. The overall objective of AAL is to enhance the quality of life of older adults while strengthening the industrial base in Europe through the use of ICT.
"Being financed through the FNR is vital for non-profit end-user organisations such as Stëftung Hëllef Doheem as without this, such active involvement would not be possible," von Döllen states.
In addition to being able to be actively involved in the Anne project, von Döllen explains that the opportunity to work with an international consortium is sometimes challenging, but that being able to contribute to such an ICT care initiative is also hugely rewarding.
"Becoming aware of all the different viewpoints and approaches and being able to contribute to the development of ICT tools that could meet the real needs of the older adults and their informal/formal caregivers is very enriching. For example, together with the staff of the Siwebueren Day Care Centre and some of their clients, we are currently adapting a puzzle game in such a way that people with cognitive problems and dementia can play them with relative ease.

"Anne in the future will be able to support them at home in very much the same way as the DCC staff do when they are doing a puzzle in the centre. Playing the puzzle in the DCC with the staff and then playing it at home with Anne on the days that they are not able to attend the DCC will provide the older adult with the much-needed continuity of care." 
[1] Source: Info Zenter Demenz
More innovation & partnership highlights