The FNR Science Image Competition aims to show the beauty of research and science outreach in Luxembourg. Felix Kleine Borgmann's 'bone track' is one of the 2022 awarded images in the Object of Study category. Learn more about this fascinating bone track image and how it is used in research.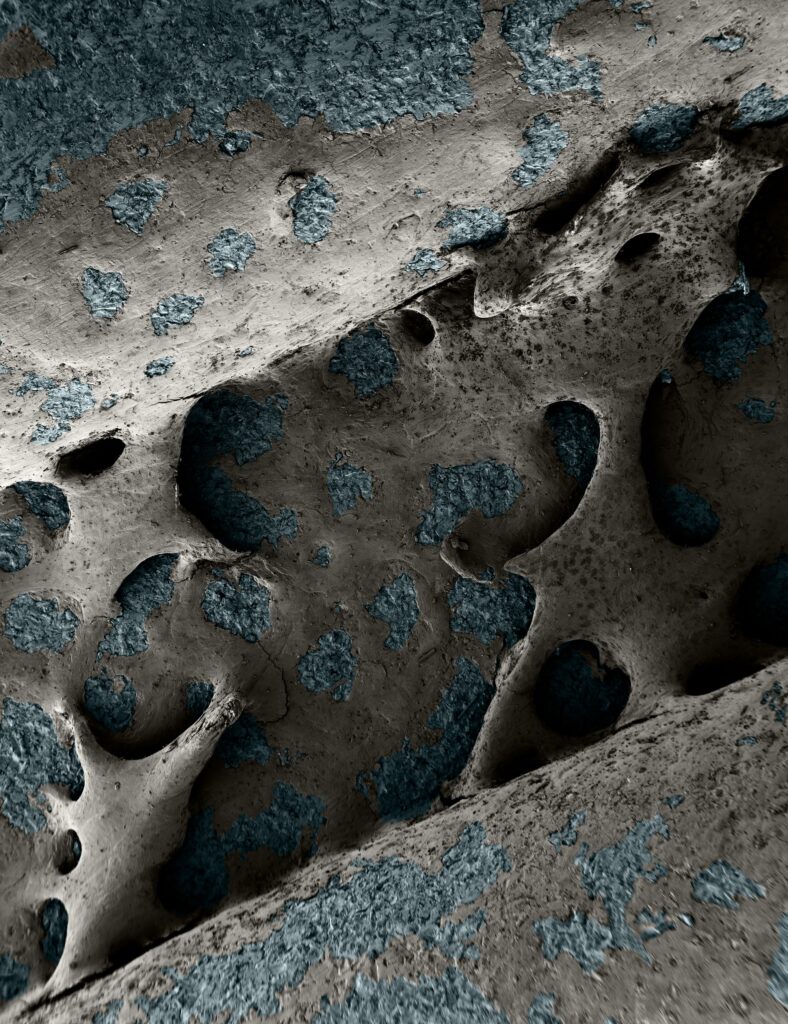 This is an image of a bone growing on an implant captured with a scanning electron microscope. The image was colourised to show the metal surface in blue and the bone in an off-white colour for better contrast.
Bone is an architecturally complex system that through renewing and repairing itself continuously undergoes structural and functional optimisation. The scanning electron microscope (SEM) is among the most frequently used instruments for examining bone. Scientists for example use it to study different effects on bone regeneration, as it provides very high spatial resolution, as well as a wide field of view and large depth of field.
With microscopy, scientists can also study the integration of an implant into the bone and how different surface textures interact with it – exactly what you can see in the 'bone track' image. In this magnification, the implant forms 'tracks' on which the bone grows both as a flat cover and in large elaborate structures.
WORD FROM THE JURY
An international jury selected the winning photographs, images and videos, based on their aesthetic quality and their aptitude to inspire and fascinate, to convey or to illustrate knowledge, to narrate a story, to engage the public to explore a new universe.
For the jury, this stunning picture forces viewers to slow down, immersing them in a dazzling view of structures of unknown scale from something they have never seen before. It is a deep dive into the infinitely small.
Use in dental medicine
The image below shows a woven bone from cattle imaged with a scanning electron microscope. The harsh contrast gives the small fragment of bone the appearance of a large object in space – in reality, it measures a little less than 2mm.
Material from such bones is used in dental medicine to fill defects in the jawbone. This image was also taken by Felix Kleine Borgmann, as part of a study investigating the use of such material in an animal model of guided bone augmentation. It was exhibited with 'distinction' in the 2021 FNR Science Image Competition.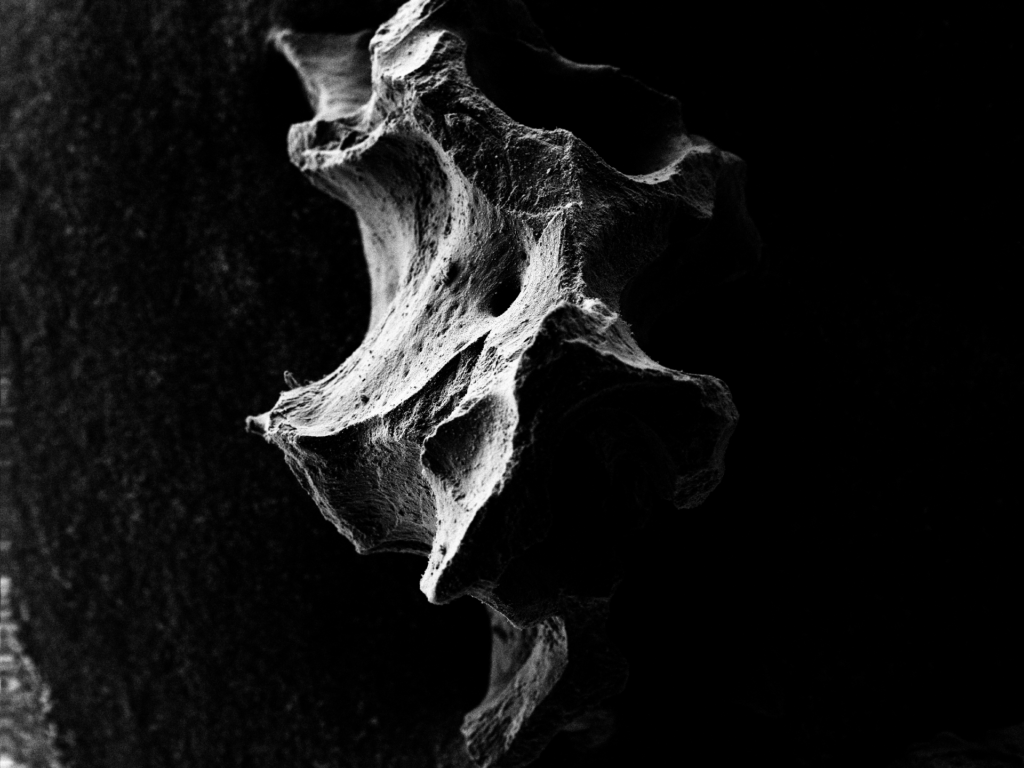 About the FNR Science Image Competition – discover the exhibition!
The FNR Science Image Competition ran for the first time in 2020, on the occasion of the FNR's 20th birthday. Now in its third edition, the 2022 awarded and 'distinction' images – along with the 'Prix du Public' awarded in collaboration with media partner RTL, can be discovered at an exhibition at the Luxembourg Science Center from 29 June until the end of September 2022.
More exhibitions, such as the annual exhibition in front of Lycée de Garçons in Luxembourg-Limpertsberg (Place Auguste Laurent), will follow later in the year. Do not miss your chance to experience these fascinating images on 2m tall posters!
Categories in the FNR Science Image Competition
1) Object of study: From the microcosm to the macrocosm, images of the research object captured by scientists using a camera or generated by a computer.
2) Scientists in action: Photographs of research in practice, presented by and featuring those conducting it.
3) Places and tools: Photographs of the surroundings in which scientists take measurements, generate data, share their passion, make discoveries and of the instruments they use while doing so.
4) Science outreach activities: Photographs of an activity where researcher and science communicators dialogue with the school children, students or the wider public or of interactive projects for school children, students and the wider public, giving them an overview of science and research and/or scientists' research methods.