Led by Dr Valérie Maquil, a team of researchers at LIST have developed a programmable micro-controller called 'Kniwwelino®', entirely designed for children from fundamental schools and "maisons relais" in Luxembourg. The micro-controller is not only a big success with children, but also introduces them to what will likely become a fundamental skill in the future: programming.
The Kniwwelino® was developed and is being tested in the scope of the PSP-Flagship project 'BEE CREATIVE 4 Kids – a maker's approach to science', which uses non-formal education and 'maker spaces' to promote a creative and scientific use of ICT-tools and the development of digital and scientific skills among young children.
"There is a big need for IT skills on the job market, and this need will even increase as more and more jobs will be involve computers in the future", Dr Valérie Maquil says, adding: "Programming is becoming a fundamental skill everyone should have in the 21st century. It will allow us to make use of computational power effectively as part of our jobs and daily lives."
Natural curiosity and programming – a perfect match
Valérie – a computer scientist herself – explains that computer science is by many perceived as boring, too complicated, or something just for nerds, but not so by young kids: "
At this age children are not yet influenced by such stereotypes and show great curiosity and interest in new things. With Kniwwelino®, we try to take advantage of this natural curiosity and allow children to experience that programming is fun, creative, and not at all that complicated."
Valérie adds that introducing children to programming basics at a young age could spark an interest in all things programing that could later positively influence their choice of field at university.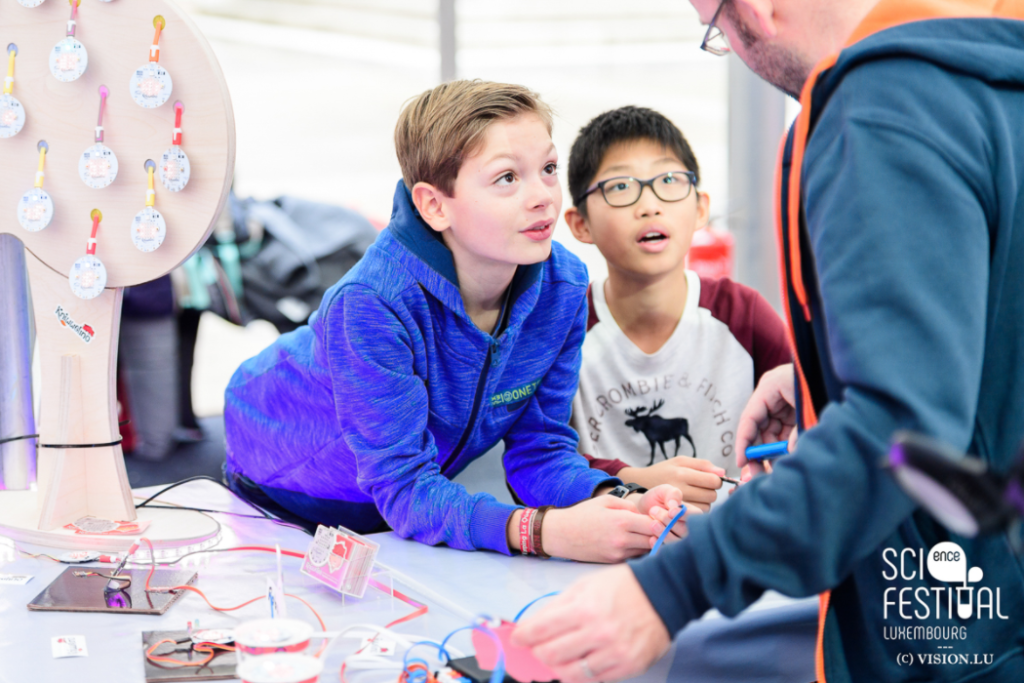 First introduced at a stand at the Science Festival in November 2017, Kniwwelino® is already a great success amongst children, with many queuing up to have a go at programming the micro-controller. Valérie explains that at the 'Makerfest', a recent creative workshop event, they observed that even if the kids did not get it right in the beginning, they almost never gave up and were eager to get their programming project done right.
"This shows us that the Kniwwelino® and the projects you can do with it are really attractive to kids. They are interested in creating something; learning to programme automatically follows," says Valérie.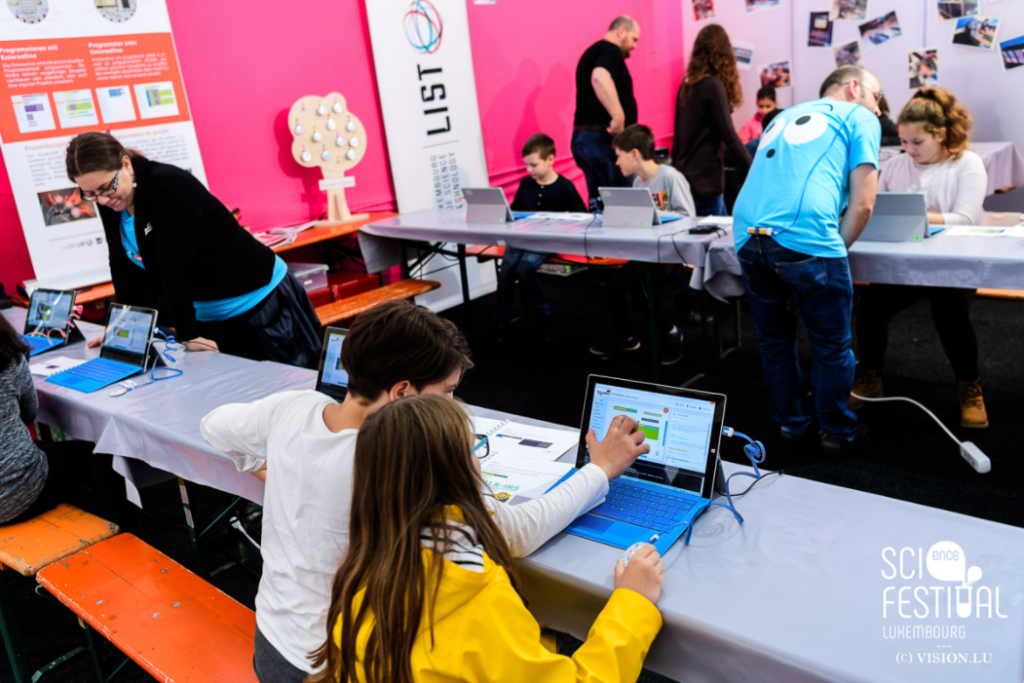 Programming with visual building blocks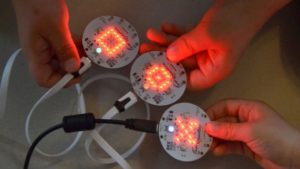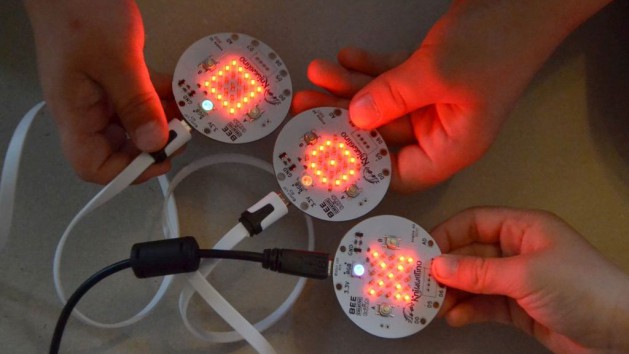 The hardware consists of a 5×5 LEDs matrix, a controller RGB LED and two push buttons. It has Wi-Fi connectivity, enabling several Kniwwelinos® to be connected over the internet. The programming is done with a step-by-step visual programming tool – visual building blocks – in a web browser.
After learning the basics of programming the Kniwwelino® step-by-step, the children can express their own creativity by implementing own ideas. Examples include a rock-paper-scissors game or a bicycle indicator.
The PSP-Flagship project 'Bee Creative for Kids', which includes Kniwwelino® has just entered year two of three. Next steps are to further improve Kniwwelino®, add more parts and project ideas to support the children's creativity and enjoyment of electronic crafting.
In order to get more kids involved, the team around Kniwwelino® is also working closely with the national youth service (Service National de la Jeunesse – SNJ), a government organisation in charge of non-formal education in Luxembourg, as well as SCRIPT, a government organisation responsible for formal education.
The experience of teaching children to programme is also rewarding for Valérie, as she explains: "It is great to be able to show to the children how fun it can be to program something and to use electronics to build something. When I see that it works out, that children have fun with it, that they share my interest, and even say to me that they want to become a computer scientist or a researcher, then it really is rewarding."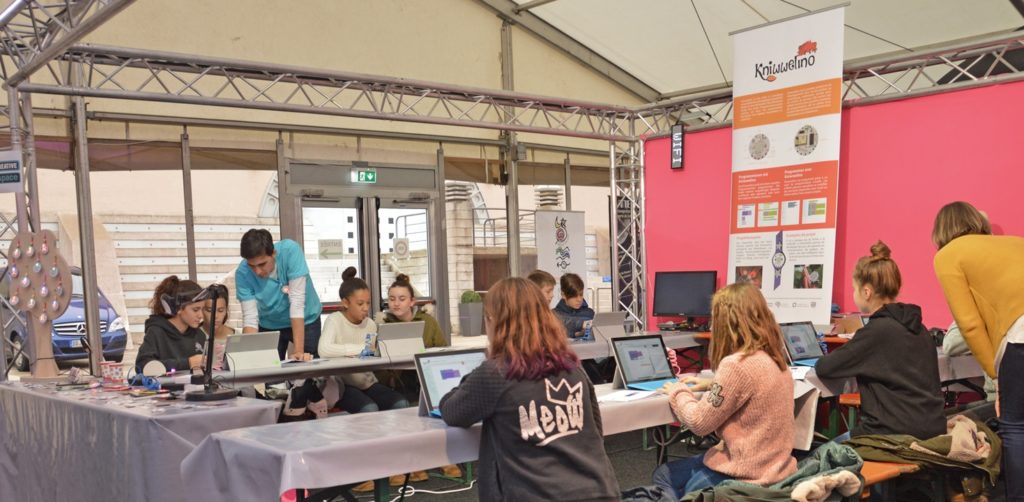 About 'BEE CREATIVE 4 Kids – a maker's approach to science'
"BEE CREATIVE for kids – a maker's approach to science" uses the toolset of the non-formal education to promote a creative and scientific use of ICT-tools and the development of digital and scientific skills among children aged 6 to 12 years. The project is run by SNJ and SCRIPT, supported by the Luxembourg Institute for Science and Technology (LIST).
The project is supported by the FNR's promoting science to the public programme PSP-Flagship, which provides support for setting up long-term science outreach activities with a sustainable and lasting impact on the promotion of science to the public in Luxembourg.
---
Published 6 February 2018
---
Update December 2018: The FNR further supports this project with a Proof of Concept (PoC) grant from the FNR JUMP programme. The PoC project is titled 'Kniwwelino® to School', and aims to take the necessary steps in order to have Kniwwelino® accepted and supported by schools, teachers and the government. These concern the development of Kniwwelino@School as an extension of the current Kniwwelino® ecosystem, the integration of Kniwwelino® in school curricula, the conduction of pilot studies in Luxembourgish schools, and the preparation of the creation of or transfer to an exploitation entity.