Many of the things we furnish our homes and office with emit gases that we are oblivious to inhaling. As eliminating these items from our lives is unrealistic, science wants to understand that which we cannot eliminate, thus more effective sensors are needed. Material scientist Rutuja Bhusari combines materials at nanoscale to create a gas sensor powered by nature.
Research has uncovered that there are many dangerous gases present indoor environments – such as cars, offices, homes and more – slowly seeping from chairs, carpets, leather seats or dashboards.  We are not even aware we are inhaling these gases, or in what quantities.
Since we cannot eliminate these things from our lifestyle, science wants to determine at least what levels of such harmful semi-volatile organic gases we are inhaling: Sophisticated, easy-to-implement sensors for these types of gases are needed.
Finding the most efficient way to detect volatile compounds
Material scientist Rutuja Bhusari explains a lot of research is done to detect volatile compounds like acetone and ethanol. Researchers have used different combinations of materials and stimuli to create sensors that can efficiently detect volatile compounds.
"It is established in previously done work that detection of semi-volatile compounds like phthalates – a group of chemicals that act as binding agents and makes plastic flexible – will also follow a similar mechanism to that of volatile compounds. This helps me base my research on concrete foundations and find a way ahead from there," Rutuja explains.
Getting gas sensors to work at room temperature
Gas sensors based on metal oxide materials operate at high temperatures, meaning they need a lot of energy. To reduce the energy consumption, scientists need to find a way to make these gas sensors work as efficiently at lower, or room temperature. However, this is not a straightforward task: Metal oxides are semiconductor in nature, meaning they have either a low or no current at all passing through them. They need external energy source like heat to increase their sensitivity towards presence of different gases in the atmosphere.
"In my work, we use two pathways to overcome this challenge, one is combination of materials and second is using light," Rutuja explains.

"We prepare a material by combining zinc oxide and copper oxide. Zinc oxide is known to be sensitive to various gases and can already sense at room temperature. However, to be able to operate at room temperature, zinc oxide requires UV light, which in turn requires energy.

"Copper oxide, on the other hand, can absorb visible light. By combining these materials at nanoscale, we aim to make a sensor which operates at room temperature and gets energy from naturally available, visible light."

"So far, we have been able to synthesize the zinc oxide and copper oxide separately. We have tested their performance as gas sensors at various temperatures and with various gases. They have proved to behave according to the requirements, which is great for our research."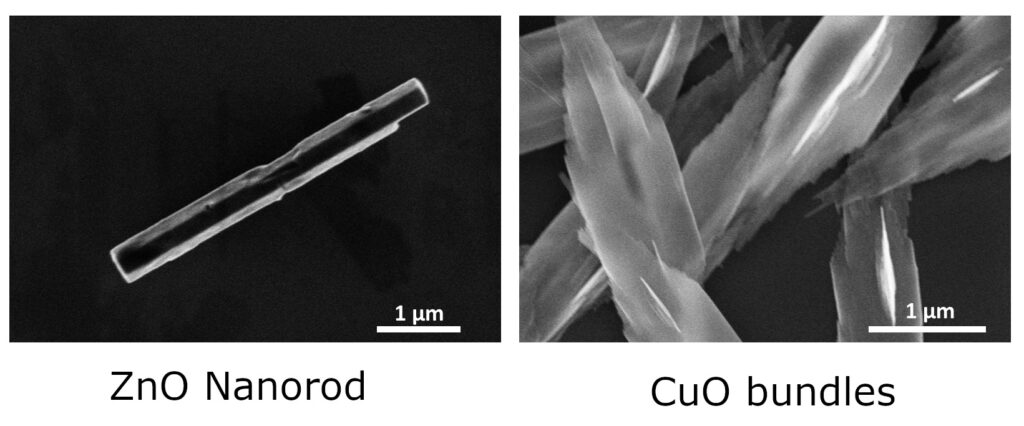 MORE ABOUT RUTUJA BHUSARI
Rutuja is a third-year PhD candidate at the Luxembourg Institute of Science and Technology (LIST). Her PhD project is funded by the FNR in the framework of the PRIDE Doctoral Unit (DTU) 'Materials for Sensing and Energy Harvesting' (MASSENA).
As an early-career researcher, Rutuja highlights the value of her supervisor's support in her work: "My supervisor, Dr. Renaud Leturcq and Dr. Jean-Sebastien Thomann from LIST have been my constant support system. They helped understand the impact of my work and guided me to do well thought-out experiments. They have always encouraged me not only in scientific terms but in daily life too."
On choosing the path of research
"My parents are medical professionals. From a young age, they developed my curiosity to be satisfied with logic and reason. Science helps us perceive things around us with a logical understanding. That is what drives me, the fact that everything has a simple explanation."
On choosing Luxembourg as a research destination
"Luxembourg presented me with two opportunities in one package. When I completed my masters, I wanted to do a PhD in the exact topic I am working on and wouldn't settle for anything else. LIST, FNR and Renaud gave me the chance to do the same. This happens very rarely in life that you get what you want, and you don't have to compromise! Other than my work, I am extremely passionate about travelling. Luxembourg, being strategically located in centre of Europe, has presented me many instances to fuel my wanderlust. I could not ask for anything more from life."
In the know: Rutuja's research overview – the peer-to-peer version
typical gas sensor characteristics

"Metal oxide chemiresistive sensors have the drawback of operating at high temperature to generate charge carriers in the semiconducting material. The other ways to achieve this are use of heterostructure and use of light. When a heterostructure is formed between a p and n type of material, slight modification in potential barrier leads to great changes in the current passing through the device. This enables room temperature sensing. When such a material is exposed to light, the photons bombarded on the surface generate excess electrons helping in charge transport. This greatly improves sensitivity to gases. We combine these techniques here."
About Spotlight on Young Researchers
Spotlight on Young Researchers is an FNR initiative to highlight early career researchers across the world who have a connection to Luxembourg, with nearly 100 features published so far since 2016.
More in the series SPOTLIGHT ON YOUNG RESEARCHERS
All

Cancer research

Environmental & Earth Sciences

Humanities & Social Sciences

Information & Communication Technologies

Law, Economics & Finance

Life Sciences, Biology & Medicine

Materials, Physics & Engineering

Mathematics

Opinion

Research meets industry

Science in Society

Science outreach

Spotlight on Young Researchers

Sustainable resource mgmt

Women in science