The digital transition of society over the last decades has brought with it a wealth of data about research – on funding, scientific outputs, collaborations, mobility, career trajectories and much more. Simultaneously, a new branch of science has emerged: the Science of Science. An interdisciplinary topic by nature, the field of research can be approached from many perspectives. We introduce the topic from the perspective of a funder, an economist, and a sociologist.
The Science of Science offers something from which all who conduct research can benefit: by understanding its mechanisms, science can be improved via a multitude of aspects, from how it is funded to how it is organised, how it is achieved, and how it can have the most societal and economic impact.
There are manifold questions to ask and angles from which to observe. All approaches share the common goal to develop tools and policies that have the potential to improve science overall[i]. Each will look at it from a particular point of view: A funder will focus on how to improve the circumstances of the science it funds to have the biggest impact, a sociologist would for example focus on the underlying conditions for the sustainable development of science, or how and why researchers collaborate. An economist would be interested in knowing how to make the funding distribution and the related funding policies more efficient and effective.
We speak with economist Cindy Lopes-Bento (FNR and KU Leuven) about the funder's angle, and with postdoctoral researcher Jennifer Dusdal (University of Luxembourg), about the sociological angle.
The funder's perspective
As part of the FNR's mission commitment to be an innovative funding agency, the FNR added Dr Cindy Lopes-Bento, Head of Science of Science and Innovation Policy (SoS and IP), to the FNR team.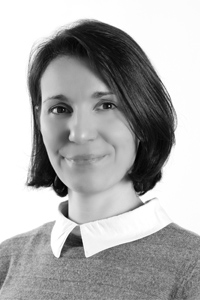 Cindy's work at FNR includes research on Science of Science and Innovation Policy, evaluating existing and collecting new data on science and innovation in Luxembourg, as well as providing advice on current or new science and innovation programmes and developing a platform for evidence-based policy.
"Science of Science (SoS) is gaining importance. We are trying to understand how science works and how we can make it more efficient. Of course, a funding agency's 'leverage' comes through funding and programmes. Here it is about understanding how the science funding works, how it can shape researchers' careers and how it can have the highest impact for society.

"The hot topics include funding policy evaluation, double subsidisation, career tracing and impact of funding – what happens to the people and research that are funded with public money?

"A topic that increasingly gains in importance also pertains to how funders can make the referring process more efficient, for the applicants through valuable feedback and unbiased evaluations, but also for the referees and the funders through lighter administrative burdens" explains Cindy, who is also Associate Professor at KU Leuven, in the field of the economics of science.
Overall, in her role as head of SoS and IP, Cindy aims at promoting an innovative, efficient and conducive research environment through effective research management and funding. By developing know-how and infrastructures to implement an evidence-based approach in the design, monitoring, and assessment of research strategies and programs, she intends to reach a better understanding of the research landscape of Luxembourg and on how this landscape can be further enhanced, both nationally and internationally.
Through the exploration of new ways of assessing and evaluating projects and programs, and based on the latest theoretical and empirical evidence, SoS and IP adds to current academic literature by publishing results from its research activities, undertaken jointly between the FNR and academia. This does not only allow the FNR to be a frontrunner on the latest trends in terms of research funding and management, but it also offers a unique "leading-by-doing" example on how policy-makers and academics can advance knowledge through close collaboration.
Finally, by vaulting the FNR to the fore of national and international research policy and strategy debates through its activities, SoS and IP works towards improving the visibility and the impact of the FNR and of 'research Luxembourg'.
The sociologist's perspective
The Science of Science (SoS) domain is also witnessing natural, computational, and social scientists who develop big data–based capabilities for the analysis and modelling to capture scientific developments as they happen. One such scientist is Dr Jennifer Dusdal, a young PI and sociologist at the University of Luxembourg. Her SoS focus, in a nutshell, is: What drives collaboration in science?
"Not only universities and research institutes are producing science – there are many more stakeholders involved in research and the diffusion of knowledge, like companies, labs, museums, hospitals, or government agencies. Who collaborates with whom and why? I am looking at science on an organisational level. I want to understand how scientific quality within organisations can be fostered by research collaborations? What can we improve in our higher education and science systems to bring people together to make pathbreaking discoveries?"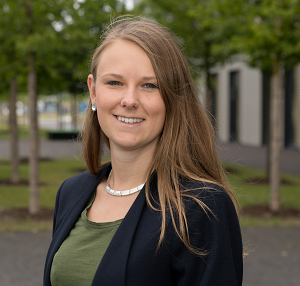 During her PhD, Jennifer found herself having to manually code 5 million entries of raw data from a bibliometric publication database to develop a new matrix of organisational forms to identify the most important science producers, characterized by their tasks, aims, and types of research. Jennifer now collaborates with colleagues from computer science and engineering (including joint supervision of a PhD project). This exemplifies how within-organization of collaborative teamwork across disciplines is key to Science of Science––and to further develop innovative methodological approaches necessary to process the vast amount of data needing awaiting in-depth empirical analysis.
Interdisciplinarity and international collaboration are crucial for this research. Jennifer is currently PI on[ii] a joint project "Relational Quality" (Q-KNOW) with partners at two universities in Germany, that investigates how scientific publication patterns evolve, especially by analysis of interorganizational collaboration networks and their impact. Using the methods of science of science and concepts relating to "relational quality" and "collaboration portfolios", her team studies how collaboration is leveraged to enhance scientific quality and research, and which organizations provide optimal conditions for innovation and knowledge production?
"There is already a lot of research about international cooperation out there. But looking at it on an organisational level is new. I think it is an important topic for researchers, policy makers in ministries, university and research institute managers, and funding agencies in all countries.

"This is also true in Luxembourg, which has a comparably young and small higher education and science system with one national university and a few research institutes, that are, however, among the best connected worldwide. For me as a sociologist of science, I am perfectly positioned in a 'realtime' laboratory to observe the global development of collaborative science and to analyze the institutionalization of an internationalised university within a multicultural knowledge society."
The research field Science of Science is budding in Luxembourg – Jennifer's and Cindy's goal are to expand the field, adding more projects and collaboration to further establish the field in Luxembourg.
Lecture series: Science of Science in the Spotlight
At the heart of Science of Science is collaboration. Examining the parts of the clock that make science tick is an effort transcending borders and disciplines. Both Cindy Lopes-Bento and Jennifer Dusdal highlight the vital part their international partners play in their respective efforts in Luxembourg.
"I wanted to bring leading experts and interesting researchers to Luxembourg to talk about different aspects of SoS and to show the diversity of topics that are related to this field, from sociology, anthropology, history and economics to political and computer sciences," Jennifer explains, introducing the lecture series Science of Science in the Spotlight, which aims to provide a forum for multidisciplinary exchange bringing together Science of Science experts in a series of events on the domain's hot topics in the domain.
Participants will be able to join discussions on topics such as historical and philosophical views on international higher education developments in different countries, inequalities in science, scientific knowledge production and collaborative networks, data-sharing, research policy and its impact on evidence-based decision-making processes.
All six lectures
can be followed online
. The lecture series is supported by the FNR's RESCOM programme, which supports research communication between researchers.
---
[i] Fortunato et al. 2018. Science of science. Science, 359(6379): eaao0185. DOI: 10.1126/science.aao0185
[ii] Funded by the German Federal Ministry of Education and Research (BMBF)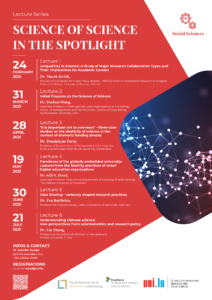 RELATED FUNDING PROGRAMME
About Cindy Lopes-Bento
Cindy Lopes-Bento is Head of Science of Science and Innovation Policy at the FNR. She is also Associate Professor at the Faculty of Economics and Business (FEB) at the KU Leuven. Her research interests center around the fields of the economics of science and innovation as well as policy evaluation. Her approach to this agenda is mainly quantitatively oriented, typically based on the compilation and careful analysis of large-scale datasets coupled with modern micro-econometric techniques. Her hypotheses draw on theories from the fields of the economics of innovation and science, with an increased emphasis on phenomena relevant to Open Innovation, Open Science and industry-science/policy-science collaboration in ongoing research projects. Her goal is to produce empirical findings that generate new theoretical insights for managers and policy makers.
More information on Cindy Lopes-Bento can be found here.
About Jennifer Dusdal
Dr Jennifer Dusdal is a Sociologist and PI within the Institute of Education & Society at the University of Luxembourg, which she joined in 2013. She is also Postdoctoral Research Fellow at the Leibniz Center for Science and Society (LCSS), Leibniz University of Hannover, Germany. Her research expertise lies at the intersection of higher education research, science studies, and bibliometrics. Her specific topics of interest include higher education and science systems, institutions and organisations, research collaborations, higher education governance and evaluation as well as science capacity-building and science production.
Find out more about Jennifer Dusdal.
All

Materials, Physics & Engineering

Spotlight on Young Researchers

Women in science