Mark your calendars! We are thrilled to announce that the fifth edition of SciCom Luxembourg will take place on Thursday, 28 September 2023, at ChouChou Luxembourg for a day of insightful interactions and meaningful discussions.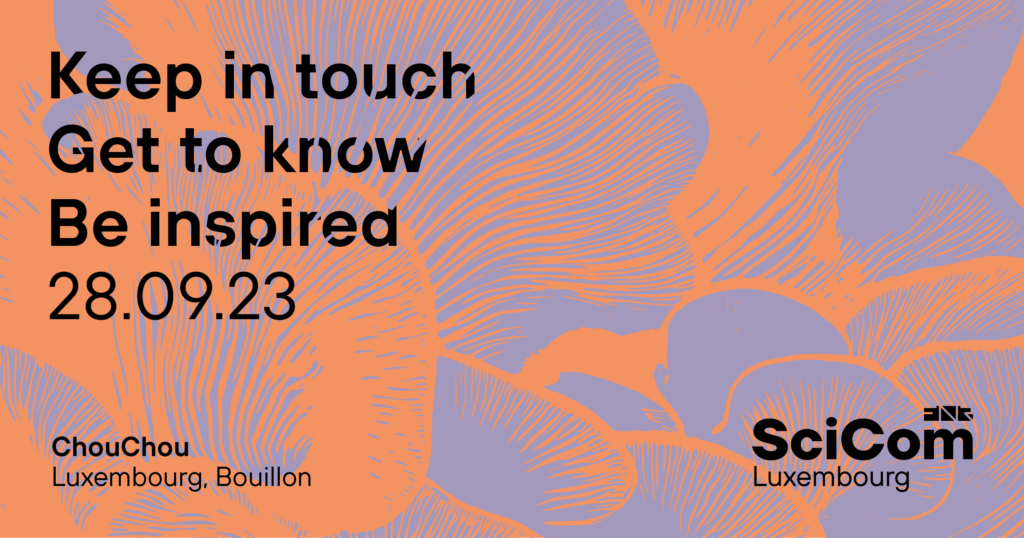 SciCom Luxembourg is an annual networking event for science communicators from Luxembourg and surroundings with the goal to keep in touch, get to know each other and be inspired.
Who?
Science communicators from Luxembourg (and surroundings)
Researchers, teachers and other professionals that are active in science communication
Where?
What?
12H00 | Bits & Bites Networking – Let's eat and meet
13H00 | Official Start – Let's set the stage
13H15 | Keynote Talk – Let's get inspired by Andy Miah
14H15 | Work & Learn – Let's figure this out together
16H15 | Group Activity – Let's solve fun challenges
17H00 | Conclusion & Feedback – Let's wrap this up
17H30 | Networking Cocktail – Let's celebrate and talk
21H00 | Official End – Let's say a temporary goodbye
Note: For networking opportunities, please make sure to come to the Bits & Bites Networking and the Networking Cocktail.
More information
You're not sure whether you can participate, but you want to be kept in the loop for any further information about the event? Please email melanie.reuter@fnr.lu to get on the mailing list.
Registration
Related contacts