PROGRAMME SUMMARY
CORE is the central programme of the FNR. A multi-annual thematic research programme, the prime objective of CORE is to strengthen the scientific quality of Luxembourg's public research in the country's research priorities adopted by the Government on 20 December 2019.
CORE projects should be innovative and of high scientific quality. All projects are peer reviewed by international reviewers.
DURATION
CORE projects have a lifespan of 2 – 3 years and funding is allocated on a competitive basis.
FUNDING SPECIFICS
The FNR allocates a maximum financial contribution of 21 MEUR for the CORE 2020 Call.
APPLICATION INFORMATION
Launch of 2020 CORE Call and programme related information and documentation is expected to be published soon.
Deadline for submissions is Wednesday, 22 April 2020, 14:00 CET. Monday, 4 May 2020, 14:00 CET.
Funding decisions will be communicated to applicants by end-October 2020.
First time CORE applicants are strongly encouraged to contact the FNR for additional guidance prior to submitting a research proposal.
The Principal Investigator (PI), author and leader of the project, is asked to submit proposals that are appropriate to his/her track record and experience.
SUPPORT FOR INTERNATIONAL COLLABORATIONS
Bilateral projects with project partners requesting funding, e.g. DFG (Germany), SNF (Switzerland), or FWF (Austria), may be submitted under the lead agency principle. Further collaborations are, for example, possible with Poland (in ICT) or with EMBL. These bilateral projects fall under 'INTER', the FNR's umbrella for international cooperation.
Find out more about International Cooperation opportunities
---
See also..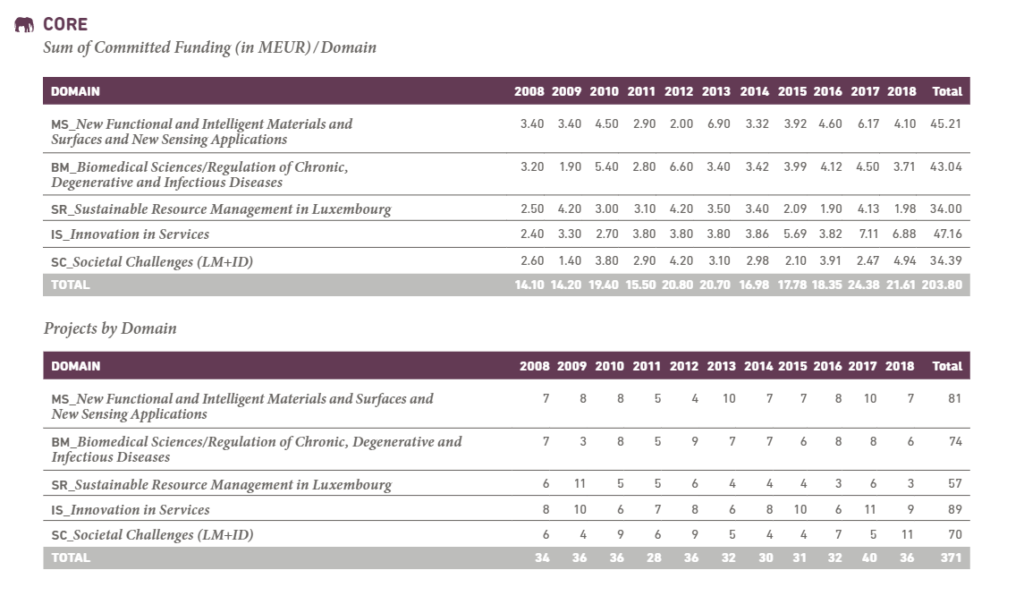 All

Humanities & Social Sciences

Information & Communication Technologies

Life Sciences, Biology & Medicine